Welcome to San Antonio Gay Bars
The gay scene in San Antonio really comes alive at night, when the bars fill up, the dance floors are flooded, and the drinks keep on coming. Whether you're looking for a cowboy bar or a chic lesbian lounge, there's a place for you to sip and mingle in San Antonio. Escape from the heat, get a tall drink, and enjoy the gay nightlife that only gets hotter as the night rolls on!

Tuesdays are the best night to go bar hopping on the strip of San Antonio gay bars. Start your night off at Sparky's Pub, a very clean bar with an English atmosphere and incredibly generous pours. The bartenders are friendly and the anglophile in you will be downright pleased with the vibe. Otherwise, head over to Bermuda Triangle where the lesbian love is abundant, the dance floor is crowded, and the bartenders serve up stiff drinks for the ladies!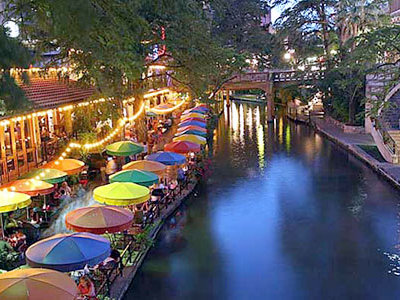 Ready to get your groove on? San Antonio's gay clubs keep the liquor pouring all night long while you get sweaty on the dance floor. Check out Heat, with its thumping music and enormous dance floor. Or head over the most original club in town, Pegasus, which includes a cowboy room called the Flying Horse, where guests are welcome to don leather chaps, or tropical themed karaoke room, where show tunes, disco, and Streisand are always in circulation!
San Antonio's gay bar scene is always changing, and always exciting. No matter what time of year you're around, things are bound to be hot in these venues!